I have been wanting a camera bag/purse for about a year now, so I finally made my own DIY camera bag purse! I bought foam and fabric a year ago but didn't get any farther on the project. Finally, I decided to buy one last week, but when I went to check out, shipping bumped the price just over $100. While I was ready to pay $89, $102 just seemed a little steep!
So, I finally decided - why not, let's see what I can do! And I'm glad I did -
I love how my camera bag turned out!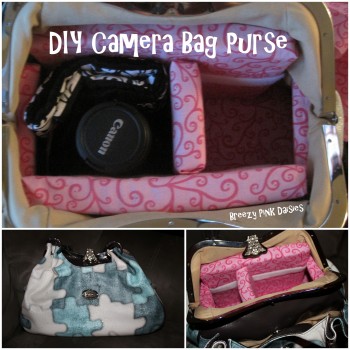 My quick and easy way involving very little measuring and NO SEWING! That's right, I used
hot glue
to "sew" the fabric. So, here's the materials I started with:
(note: I used 1 inch foam, but it probably doesn't need it to be quite that thick...however, I just wanted to make sure my camera would be extra safe!!)
I pretended like I was
wrapping a present
around the foam pieces and used hot glue to keep the fabric in place. I did one skinny long piece for the bottom of the purse, two long side pieces, two short side pieces, and one small middle piece.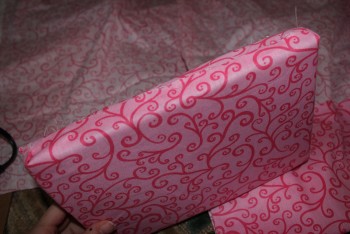 I hot glued the long side pieces to the bottom pieces.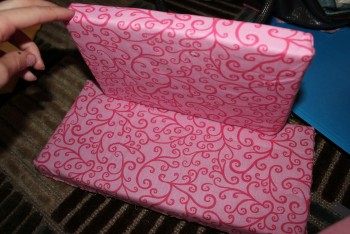 And I simply placed the short side pieces of foam on the sides of the piece. They stay in place just fine that way.
You can see I stuck a strip of
velcro
(soft side) on the middle of the long side sections. This is so I can adjust the middle piece - which has the hard velcro on the sides) to wherever I want. I could also add more of these if I ever saw the need for it, but for now I'm good.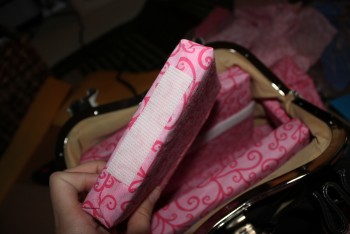 And Ta-Da! Here's my camera placed safely in its new camera bag/purse! She loves it and is wondering why it took me to long to make her such a nice home! If you have ever thought about making your own camera bag - stop thinking and just do it! :) And
use hot glue if you are not a sewing person
. Honestly, once it's in the bag, you can't tell!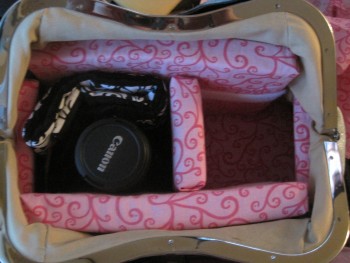 Seriously, this took me about an hour while watching TV. I don't know why I waited so long to do it - and am so glad I didn't spend $102 on one! I'm so happy with how it turned out.
And stay tuned
- later this week I'll show you some engagement pictures I took with this baby (the camera, not the bag, in case there was any confusion there)!
UPDATE: Here I am in California modeling my new camera bag! Ready to get some good pictures this week! :)
And my sister was having fun snapping pictures...so here's a couple more un-posed ones!